Scholarship Recipients
2021
Olivia Hale
Olivia Hale is a sophomore at IUPUI and plans to major in Public Safety Management and minor in Spanish. In addition, Olivia plans to apply for the accelerated master's program at the O'Neill School. After completing her degree, she plans to enter into the career path of federal law enforcement, specifically in counterterrorism or a special investigations unit. Olivia chose IUPUI and O'Neill School because of the diversity the campus has to offer. In the future, Olivia plans to work in a larger city where she can be exposed to many different individuals and she knows that IUPUI and O'Neill School will provide her with the absolute best instructors and academic experiences.
2020
Chase Simpson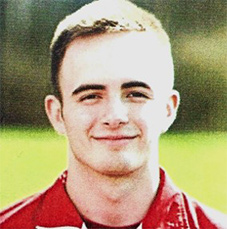 Chase Simpson aims to obtain his bachelor's degree in Public Safety Management and pursue a career in law enforcement. Chase would one day like to work for the Indiana Department of Natural Resources as a conservation officer. He chose his O'Neill School undergraduate major to tailor his skill set to both fire and law enforcement. Chase comes from a diverse family with firefighters and police officers. Chase chose the O'Neill School because it had the major he was most interested in studying. In addition to his schooling, Chase was promoted to supervisor at a private security firm and oversees five additional security guards per shift.
2019
Reece H. Thompson
Reece Thompson has spent his time at the O'Neill School working toward his bachelor's degree is Public Safety Management. Reece chose O'Neill School because it offered the degree and programs he needed to fulfill his short and long­ term goals. Reece feels his college goals are quite simple—he wants to graduate with a job lined up and make a lasting impact on campus. Reece chose to study Public Safety Management with a minor in Civic Leadership because of the great opportunities. He feels this degree makes him capable of pursing a leadership position in law enforcement. Before graduation, Reece plans to apply to different police departments in Indiana so he can develop a foundation for his career. His long-term goal is to work with a federal department so he can bring experience back to help local communities.
2018
Shelby Cleek
Shelby Cleek is a sophomore at Indiana University Bloomington pursuing an informatics degree with a minor in psychology. She will be a second-generation law enforcement officer. Her passion for the field has been present all her life but in 2016 it was affirmed when she attended the FBI Youth Leadership Program in Quantico, Virginia. Shelby plans to join the IU cadets to help her ultimately pursue a career in federal law enforcement. She is excited for the future and very thankful for Jason Baker and his family, this scholarship has given her an additional motivation and reason behind her dreams.
Alexander Clausius
Alexander Clausius is beginning his master's degree in Homeland Security and Emergency Management after earning his bachelor's degree in Public Safety Management this spring. His education at the O'Neill School will help him achieve his career goal to be an FBI special agent focusing on counterterrorism or violent crime. This has been Alex's dream since he was in the eighth grade and since then, he has done everything to make this dream a reality. He feels that an important decision he made in pursuit of this goal was to major in Public Safety Management at the O'Neill School. Alex feels he was correct in his decision because working toward this degree allowed him to have some amazing opportunities. Over the last three years, Alexander was able to participate in a program at a maximum-security prison with Toastmasters International, where his perspective on criminal justice was changed. He had the opportunity to study issues related to terrorism, homeland security, public safety, and public policy. In addition, he traveled to London for a study-abroad program and worked and studied in Washington D.C through the Washington Leadership Program. To finish off his undergraduate degree, he worked with IUPD as a cadet during the (spring 2020) COVID pandemic. Alex graduated with honors and was part of IUPUI Top 100 for 2020.
Ingrid Ortega
Ingrid is currently studying Public Safety Management with minors in Forensic Science and Psychology. During her senior year at IUPUI, Ingrid plans on being a full-time student while also completing her second year as a cadet at the Indiana University Police Department. During the summer of 2021, Ingrid plans to attend the Indiana University Police Academy. Following graduation, Ingrid plans on starting graduate school at IUPUI as well as continue to work for IUPD. For as long as Ingrid can remember, she has always wanted to make a difference in the lives of the people around her and knew she wanted to work in law enforcement. She has always had interest in catching the 'bad guys' and inspiring younger kids. The job is to protect and serve and that is what Ingrid plans on doing for the rest of her life. This scholarship represents a great achievement to Ingrid and she is extremely thankful for the opportunity.
2017
Darian Lewellen
Darian will be a junior at IUPUI majoring in Criminal Justice. Darian will graduate in 2019 with a CJ degree and a graduate certificate in Public Management. As an IUPUI Cadet Darian is attending the Indiana Law Enforcement Academy in Bloomington and will begin his Junior year as a part time sworn police officer gaining valuable experiance in his chosen field.
Darian is a second generation police officer aspiring to a career with the Indiana State Police, Indianapolis Metropolitan Police Department or the Marion County Sheriff's Department. Darian has already gained some security experiance having worked for Excise and the Indianapolis Motor Speedway. Darian enjoys fishing, hunting and weightlifting. (updated 8/17).
Jacob Lusby
Jacob is a 2016 graduate of South Dearborn High School. He received an AS in Criminal Justice through Ivy Tech Community College then transferred to Indiana University East where he is working to complete his bachelor's.
Recently, August 2019, Jacob was hired by Aurora Police Department as an officer. Both Jacob's father and grandfather were law enforcement officers, making him a third generation officer. Jacob was fortunate enough to be hired by the same department his grandfather served as Chief of Police over 35 years ago.
Jacob is looking forward to a long, rewarding career in law enforcement.
Owen Richardson
2016
Wendy Barron
Wendy is re-charging this summer after a full schedule last school year. She has 7 classes remaining before graduation. Wendy is motivated by the faith that the Jason Baker Scholarship has instilled in her.
Wendy is looking forward to the final year challenge and is ready for the next step. (updated 8/17).
2015
Sarah Al-Abdulmunem
Sarah graduated from the School of Knowledge in May of 2013. She is currently attending Indiana University-Purdue University Indianapolis (IUPUI), where she is pursuing a bachelor's degree in Criminal Justice from the School of Public and Environmental Affairs (SPEA). Sarah will be applying for the Master of Science in Criminal Justice and Public Safety (MSCJPS) graduate program in the Fall of 2015. She aspires to become a sworn police officer, and plans to enroll in the Cadet Officer Program offered by the Indiana University Police Department.
Alyssa Devine
Alyssa graduated from Evansville High School and is pursuing adegree inCriminal Justice at IndianaUniversity-Purdue University Indianapolis (IUPUI). She is scheduled to graduate in May of 2016. Starting in the Fall of 2015, Alyssa will intern with the Marion County Prosecutor's Office/Domestic Violence Division as well as work as a Research Assistant with the School of Public and Environmental Affairs (SPEA) to develop descriptive reports on Marion County mental health courts. This summer, she will study national security abroad in London before beginning her senior year at IUPUI. She plans to attend Law School after graduation and later join the FBI.
Zachary McClure
Zachary graduated from Shelbyville High School and has graduated from Indiana University-Purdue University Indianapolis (IUPUI) in May of 2016. He is pursuing a careet in Public Safety.
2014
Lauren Kenney
Lauren graduated from Chesterton High School in 2012. She is currently pursuing her bachelor's degree in Public Safety Management from the Indiana University School of Public and Environmental Affairs at Indiana University-Purdue University Indianapolis (IUPUI). Lauren will be applying for the accelerated master's program in Criminal Justice and Public Safety in the Spring of 2015. She plans on pursuing a career in emergency management, preferably at the city or county level, or even for a college campus. Lauren interned in the Emergency Operations Center at the Indiana State Fair during the Summer of 2014.
2013
Kyle O'Riley
Kyle is a 2013 graduate of Ben Davis High School and attends Vincennes University majoring in Fire Science.
2012
Brandon Feathers
Brandon graduated from Fishers High School in May of 2012 and is currently attending Indiana State University majoring in Criminology. Brandon's dedication and work ethic earned him a spot on the Dean's list in his first semester at ISU. In addition to his Public Safety course study, Brandon is also participating in the Air Force ROTC program at ISU where he is a member of the Color Guard.
Brandon remained on the Dean's list through graduation recieving his degree in Criminology and Criminal Justice with a minor in martial arts from Indiana State University. Brandon graduated in December 2016 and is pursuing a career in the criminal justice field. (updated 8/17).
2011
Nicholas Bell
Nicholas graduated from paramedics school in October of 2014. He is currently serving on the Greenwood Fire Department as a FF/EMT.
2010
Lori Hernandez-Diaz
Lori graduated fromLafayette High School in 2010 and is studying Forensics.
2009
Joshua Joseph Jester
Joshua graduated from Greenfield Central High School in May of 2009 and attended Vincennes University where he graduated Cum Laude in May of 2011. He was hired by the Mishawaka Fire Department on June 5th, 2012 where he currently serves as a firefighter/EMT-B.
Joshua recently got married to Lauren in April of 2017. Joshua is also attending paramedic school which also started in April. Josh has also been elected to the local board of the IAFF. Josh's father is a police officer and his grandfather was a firefighter. (updated 8/17).
2008
Jacob Walker
Jacob graduated from Lawrence North High School in 2008. He attended Ball State University where he pursued a major in Criminal Justice.
2007
Jeremy Michael Devitt
Jeremy graduated from Wayne Township High School in 2007. He enrolled in Ivy Tech's Fire Science program where he graduated in August of 2009. He completed the program with honors, making the Dean's each year. He continued his education by enrolling in the School of Public and Environmental Affairs (SPEA) program at IUPUI until accepting a position as a firefighter with The City of Westfield Fire Department in May of 2011. Jeremy continues to serve with the City of Westfield while working to earn his bachelor's degree in the SPEA program.
2006
Heather Neel
Heather graduated from Beech Grove High School in June of 2006. Described as "…extremely dedicated and hard working … and a role model for the community," Heather has demonstrated her dedication to her community in many ways. She has been a member of the Beech Grove Police Explorers, volunteered at local fire departments, hospitals, and clinics. Her extracurricular and leadership activities at school have included cheerleading, sports, police and E.M.T. explorers, C.N.A., super senior, junior class officer, and student counsel.
Heather is pursuing studies in Law Enforcement and Homeland Security at Vincennes University.
2005
Robert Lagines
Robert graduated from Lawrence North High School in May of 2005. One of his instructors describes Robert as the epitome of "…what a community would expect from one of its firefighters — strength, determination, and commitment." Robert began to serve his community in middle school and continued throughout high school working with a daycare community center and a homeless shelter. He is active with his church community and intramural sports.
Robert earned his degree in Fire Science and Safety Technology from Vincennes University and is currently serving as a firefighter with the Indianapolis Fire Department.
2004
Marie Graham
2003
Matthew Harris
Matthew graduated from Noblesville High School in May of 2003. In high school, he was a lieutenant in the Noblesville Police Explorer program and involved in the DARE Mentoring program. He was also member of the football, wrestling and track teams.
Matt is working in law enforcement in Texas.